For the artisans of remote Mexico, it takes one month to make each unique kaftan and, due to the way they are hand-crafted, no two are the same.
Naturally dyed cotton thread is woven into cloth using a backstrap loom, an ancient weaving technique that has been used by generations in this community. Head weaver, Felipa has over fifty years experience and along with her daughter, Angelica and a group of artisans, they create one off pieces following age-old traditions.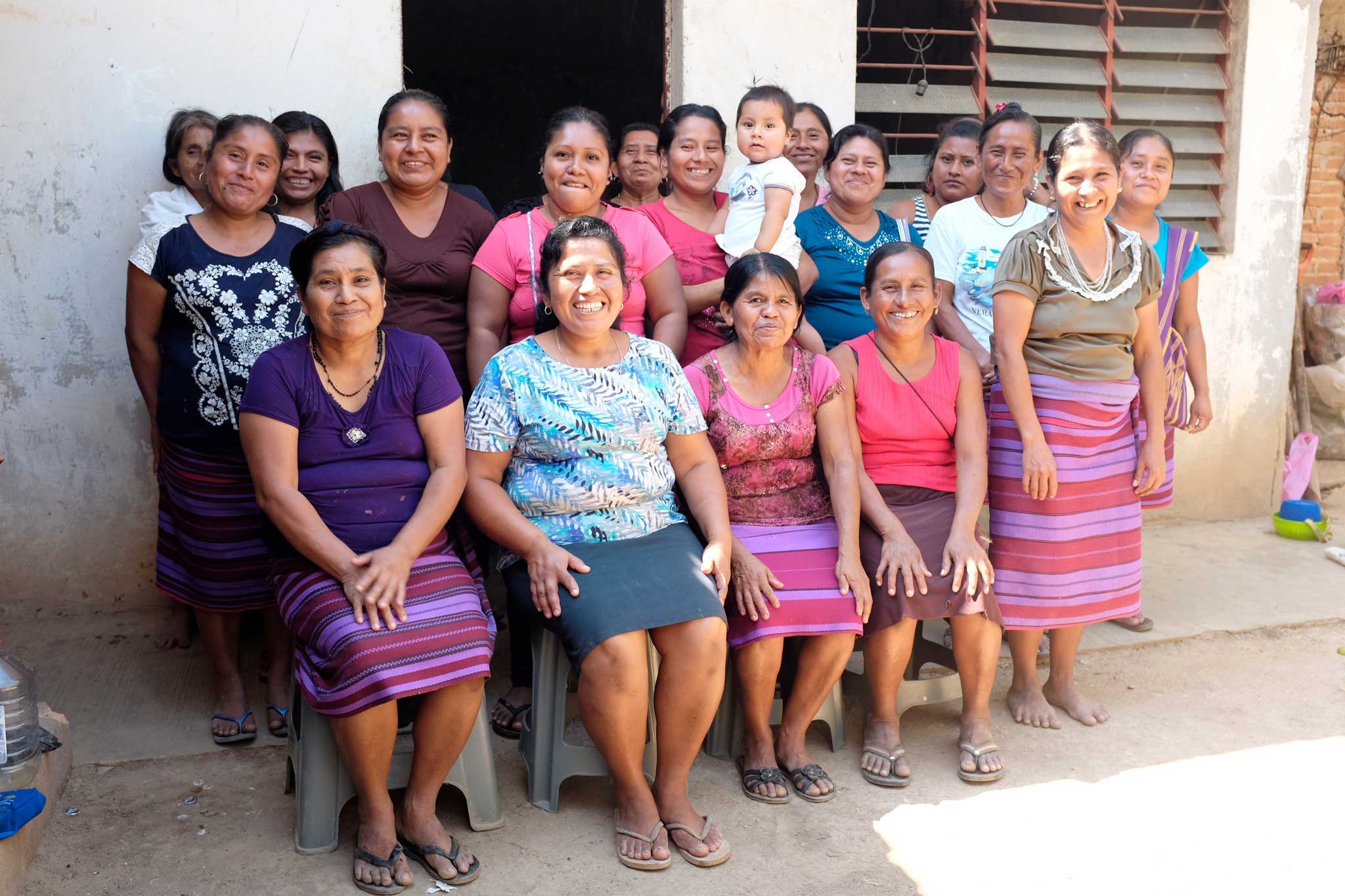 Pippa Holt Kaftans helps to support the Oaxacan backstrap loom weaving community. The business values the preservation and growth of Oaxaca's artisanal trade, and believes bringing this work to the world's high end luxury reatilers helps create a place for handmade product in the global luxury market. Traditional Mexican dresses, known as 'huiplies', is an art and tradition that was starting to disappear in this region. By supporting the continuity of this craft, 'Pippa Holt Kaftans' is helping to keep the age old tradition of back strap weaving alive.
The business contributes to improving their remote community and way of life. It is providing better housing, fees for education, healthier food and better living conditions overall.
Weaver Testimonials
Ricarda Garcia Merino:
"I have three daughters and two sons. My son is now in the university school, and thanks to the work I am getting, he will be an accountant very soon and we are so happy for that. My daughters are so involved with the work too. They helped me to support the other weavers to do the measurements as many of the women can't read or know numbers. My daughters are also learning that weaving is a very precious treasure we have."
Angelina Hernandez:
"The work is helping me to improve my quality of life. Right now I am working on repairing my house floor. I love weaving and I have been doing it since I was a child and now I finally can see the work is helping me."
Teresa Reyes Tapia:
"I am so grateful for the work. It is helping me to build my house. I never thought it would be possible. This encouraged me teach my daughter the weaving technique."
Juana Alavez Hernandez:
"My sons and daughters (7 children) are able now to go to school so we can improve our quality of life. We are working very hard because we are saving so we can buy land to build our house. I hope the work never stops."
Carmen Mendoza:
"I didn't have a job. I am so happy now that I can support my granddaughter to keep going to school and encourage her to learn the weaving technique."
"I finally can see the work is helping me."
Yuridia Lorenzo 
"I am really happy that now we are having work, this is helping me to take my son to the doctor and have a treatment as he suffers diabetes, I also help my mom and one of my brothers to keep going to school, I help to coordinate the weavers, and they feel so happy for having this opportunity to share their work with the world, we are really thankful that there are people in the world that appreciates our work."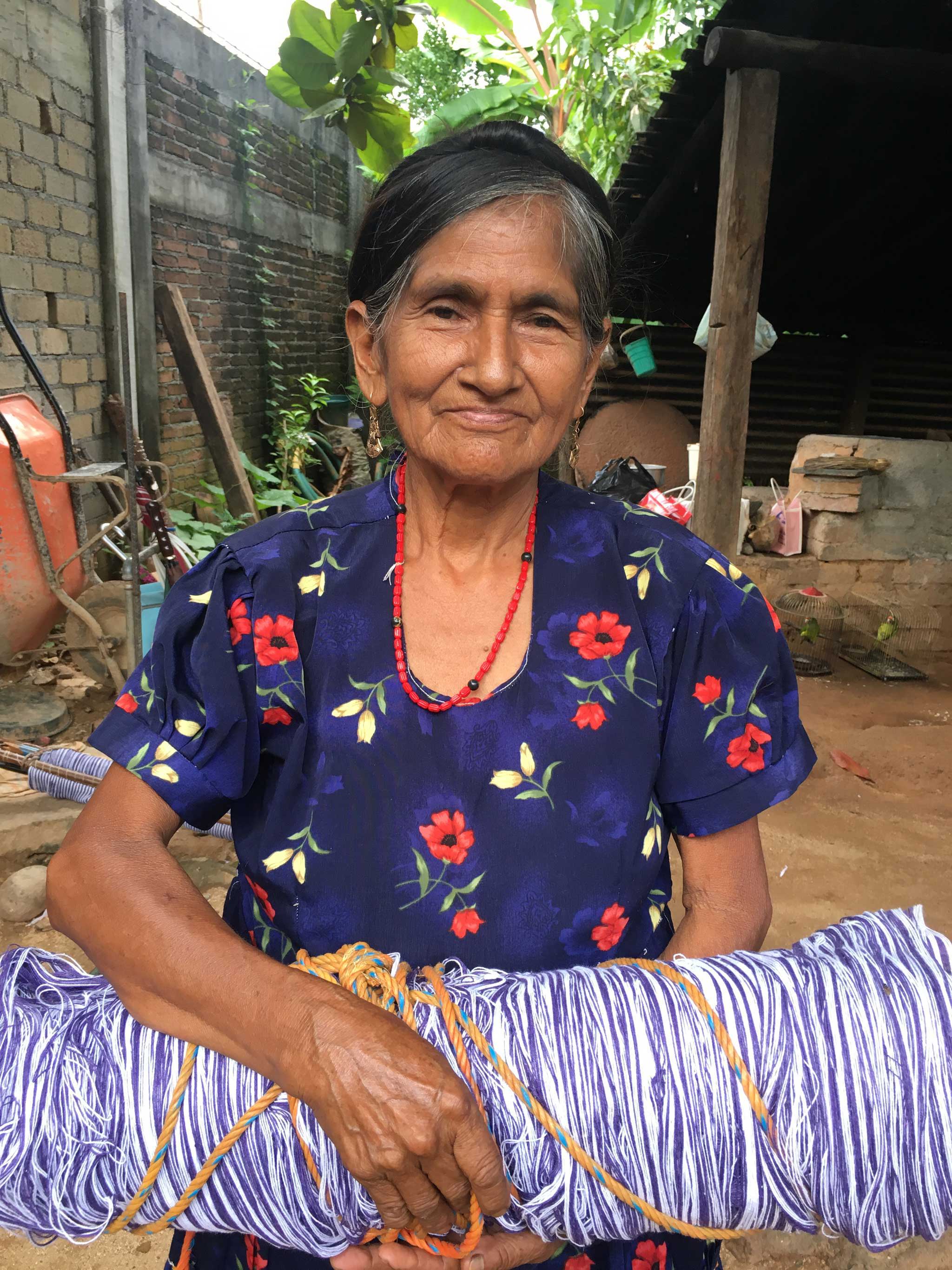 The Making of a Kaftan
A kaftan (huipil) takes three weeks to one month to complete. But that does not include the time spent gathering dye plants, collecting firewood needed to boil the dyes, hand cleaning and spinning yarn, sewing, etc. Many dye plants are seasonal and can only be found during certain months. The process is a long one, that is why the kaftans are limited, rare and one of a kind.
1. The Process
The process of traditional huipil weaving has evolved over hundreds of years. The technique known in this part of Mexico, in a region of Oaxaca, is thought to exist since 1500BC. As in most local crafts, first comes the inspiration for a new design. Before the actual execution, the elements necessary to create it must be gathered and prepared. Depending on the size and complexity of each piece, the time needed to complete a huipil can vary from 3 weeks to 1 month.
2. Design and execution
The idea for a new design is usually the first step in creating a new piece in many arts, but for this group of weavers, the design will only be seen in their minds. They never sketch or draw to determine what colors of cotton thread will be needed. Instead they weave according to their feelings and their mood, so every piece is unique and special for all of them. For existing designs the weavers still put their feelings and weave according to their mood that is partly why every single kaftan is unique.
3. Cleaning the cotton
Part of the cotton they use is from what they cultivate in the village. The cleaning of the cotton is a very long and meditative process. The weavers take out all the seeds and once it is cleaned, they have an special 'bed' made of leaves where they put the cotton and hit it with two sticks to make the cotton soften. Once it is ready they start making the thread with a spinning tool. The brown cotton is called coyuchi (natural wild Oaxaca brown cotton).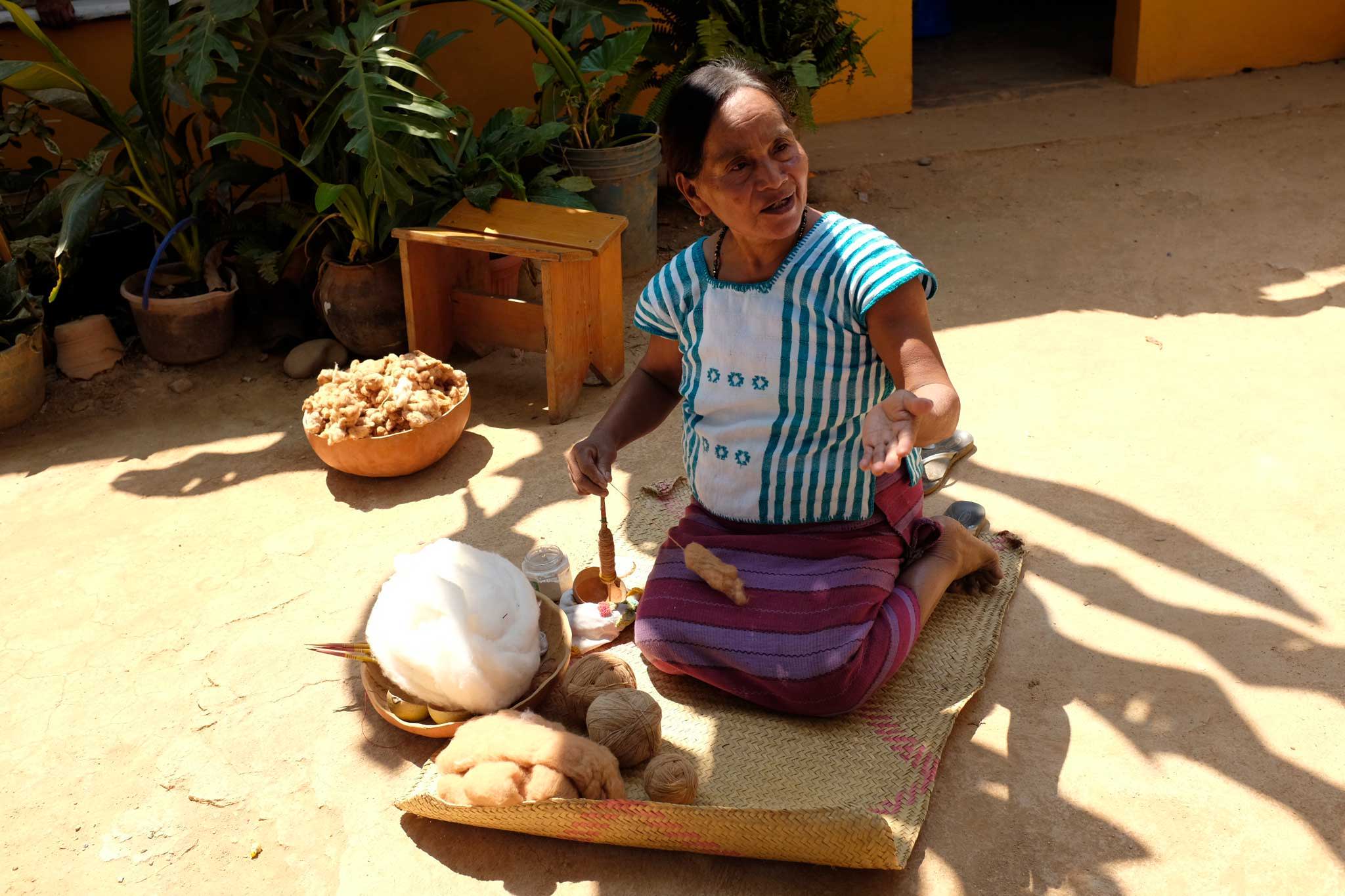 4. Preparing the loom
Preparing the loom consists of measuring and tying on the warp threads, and making sure all threads and parts are aligned properly. The weavers count all the thread to have the right measurement for what they what to weave.
5. Weaving
The women use backstrap looms. The sit and usually tie up one side of their loom from a three and the other goes to her back so she can manage the applied tensión on the loom. A kaftan (huipil) is created by passing a bobbin through the warp threads, shifting the warp threads with the machete (a tool made with wool by a man in the town which has a blade shape), and repeating - the strongest is the hit the more structure the huipil has. As the design calls for different colors, thread with individual colors are passed through the warp for length required to make the patterns and motifs needed. Sometimes dozens of thread pieces with different colors are in play at one time.
6. Final Touches
When a piece is finished, the artisans cut the textile created from the reaming threads to remove it from the loom. As they have a large panel of textile, the second part is to sew the panels together. The time it takes depends on the number of panels and length of the panel. A single panel could take from 3 days to 1 week. The three panel styles take almost two weeks. The weavers sew the panels by hand with needle and with an special macramé technique. The piece is then washed very carefully and with nautral soap then dried ironed.
Natural Dyes
Purple tones
This area of Mexico is famous for using sea-snail purple dye, squeezed from these mollusks after they have been taken off rocks in the sea. Garments made where this dye has been used are very difficult to find and very sought after. The dye is prepared from the purpura patula pansa, a species of sea-snail, picked off the rocks of our coastline at low tide during the winter months. When the dyers squeeze or blow on the mollusks, they give off a foamy secretion which is rubbed onto a skein of cotton. Although it is initially colorless, contact with the air turns it yellow, green, and ultimately purple. The snails are put back on the rocks after this process, which explains why this resource has not been exhausted after so many centuries.
Red tones
Cochineal is a parasitic insect that lives on nopal cactus. It is a very laborious process to cultivate and harvest cochineal for use in dyeing. While some weavers have a small amount of the live bugs, it usually is purchased from a professional grower. The insects look like white spots when alive and small grey pellets when dead. Before adding them to boiling water, they are ground to a fine powder on the metate.
Blue tones
Indigo is one of the more complicated dyes to prepare. Dehydrated indigo cake is usually bought from growers in the Istmo region of Oaxaca. From this state, it takes a minimum of 3 days to prepare before it is ready to dye yarn. Steps include grinding the cake into powder, then adding it and muitle leaves to filtered wood ash water. All steps must be carefully monitored for Ph and other factors.